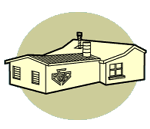 The club has a hut (Awatiro) at Waitomo. The hut is located in the heart of the Waitomo caving area, 10km past the Waitomo township on top of one of the highest hills in the region. It has superb views, and on a fine day there are good views of Mt Ruapehu.
The hut is an old farmhouse and has bunk style accommodation in three bedrooms.  Cooking facilities, pots & pans, plates and cutlery are all provided. We have a stock of firewood to keep the fireplace burning when the weather gets nippy!
Bookings are essential. Minimum of 2 weeks notice
Minimum group size of 6 applies
Payment in advance required
Exclusivity may not always be available
For hut bookings and more information contact:
Trevor Carswell
Email:
There are several New Zealand Speleo Society affiliated caving club huts throughout New Zealand, including the Nelson Speleo Group's hut on Takaka Hill, Nelson, and the Canterbury Caving Club's hut on the West Coast of the South Island.